Pach
Bandit Dwagon

18375 Posts
Posted - 02/22/2015 : 13:06:30
---
Okay, I posted the video on Photobucket but how Photobucket handles video sucks. I'm open for suggestions how to post it so it streams better:

http://vid12.photobucket.com/albums/a241/pachoy/Cae%20Champion/Video_zpsxstbgjho.mp4

I also have a picture: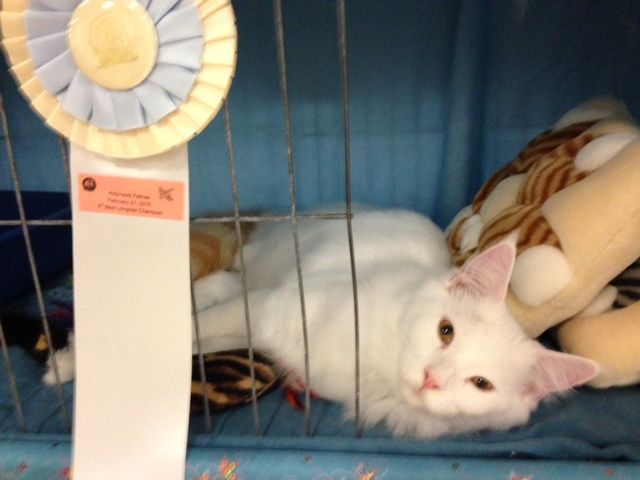 So, to get the "Champion" title, he has to be in 6 rings. That's it--easy to get. It was a 6 ring show, so he is now Champion. :)

Even though he was not "Champion" yet, he could still compete for the "best champion" ribbon in the Maine Coons and earn points towards his Grand Champion title. He won that ribbon in 4/6 rings. There was only one other cat competing for that ribbon, so he got 1 point towards Grand for each of those (he needs 200 points for Grand).

However... one judge who gave him that "best champion" ribbon called him into her final, and gave him the 3rd best longhair champion award, which means that in addition to beating the one Maine Coon, he now beat all but two of the champions in other longhaired breeds: the Persians, the Norwegian Forest Cats, the Birmans, etc.

That gave him a bunch more points and he has about 20 points or so total towards his Grand title... which is fantastic for his very first show as an adult. :)

There were only 5 Maine Coons showing in Championship: Cae, the other Open (looking for the same "best champion ribbon he was"), and 3 Grand Champions. Every single one of us made at least one final, so we all went home happy!

And last, but not least, I won some cool prizes in the raffle: the first was a cat play tunnel. I might use that to start training Cae for agility. Not sure if he will like it or not, and at the very least, it's a new toy for him. :)

And I also won a big (about 3' diameter) collapsible play tent. Why is this a cool win? Because when I stay at hotels for showing, sometimes the hotel is very nice for people... but isn't "pet friendly". In many hotels, it's possible for a cat to crawl up into the box spring of the bed and get underneath it, and it's almost impossible to get them out of there.

When I find a room like that, the cat has to stay in the bathroom... which is miserable for both of us. And there's no guarantee there isn't something in the bathroom I don't want him to get into (for example, if a faucet drips in the sink, he will still sleep in the sink and wake up drenched... YES HE ALREADY HAS DONE THIS!)

So, a collapsible tent means I have a safe place to put him for the night, in the room near me, so he (hopefully) won't cry all night long, etc. And not be able to get into too much trouble...

It was a good show. :)



---
--Pach
Pacha, 65 hobbit burglar
Apachalypse, 30-something dorf guardian
... and a whole bunch of other alts with "Pach" in them...
(retired) WoW: Pach, level 80!! Night Elf Rogue (Pockaholic with dragon flying mount)
"Life is good. Flight is better." -- me
---
Edited by - Pach on 02/22/2015 13:07:53
Amy
Bandit Angel

20178 Posts
Posted - 02/22/2015 : 18:08:02
---
congrats !!!! to you both but mostly to Cae : )

---


Many people will walk in and out of your life; only true friends will leave footprints in your heart.
Good friends are like stars...You don't always see them, but you know they are always there.

[Kinship]Syrdeth: Pelt Shelt. Got it.